Complete Story

02/24/2017
Danville Going to State Mock Trial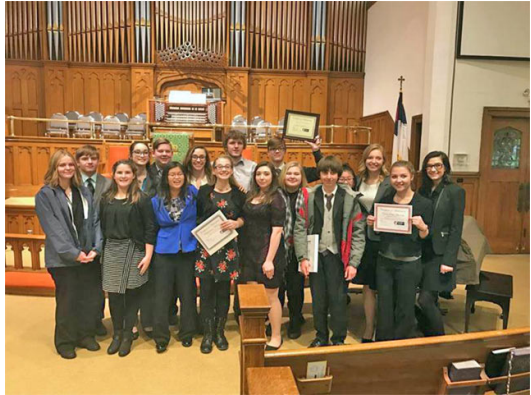 PHOTO COURTESY OF HUNTER WEBSTER
DANVILLE — Mock Trial competitions always feature a case on a timely topic, and this year's case is called "Pat Justice v. CAT News, et al." In it, the ºctional incumbent governor loses a close election and sues a news station, accusing them of providing biased media coverage.
Danville High School has had three Mock Trial teams working on the case, and three teams participated in the district competition, which was held at the Richland County Courthouse and Mansfield municipal building on Jan. 20. Ten teams competed and three teams advanced, including one from Danville.
The regional competition was held at the Marion County courthouse on Feb. 10 and featured six teams total. Danville competed against Pleasant High School and one of Ashland High School's teams. Only Danville qualified to move on to the state competition, which will be held in Columbus on March 9, 10 and 11.
The advancing team consists of Russell Alden, Addison Wills, Emma Lucas, Aaron Vess, Jaret Baker and Hannah Frye. Alden won outstanding attorney at the regional trial, and Lucas won outstanding attorney and outstanding witness awards.
Danville's Mock Trial legal counselors are Noel Alden and Brittany Whitney and Hunter Webster is the high school teams' advisor.